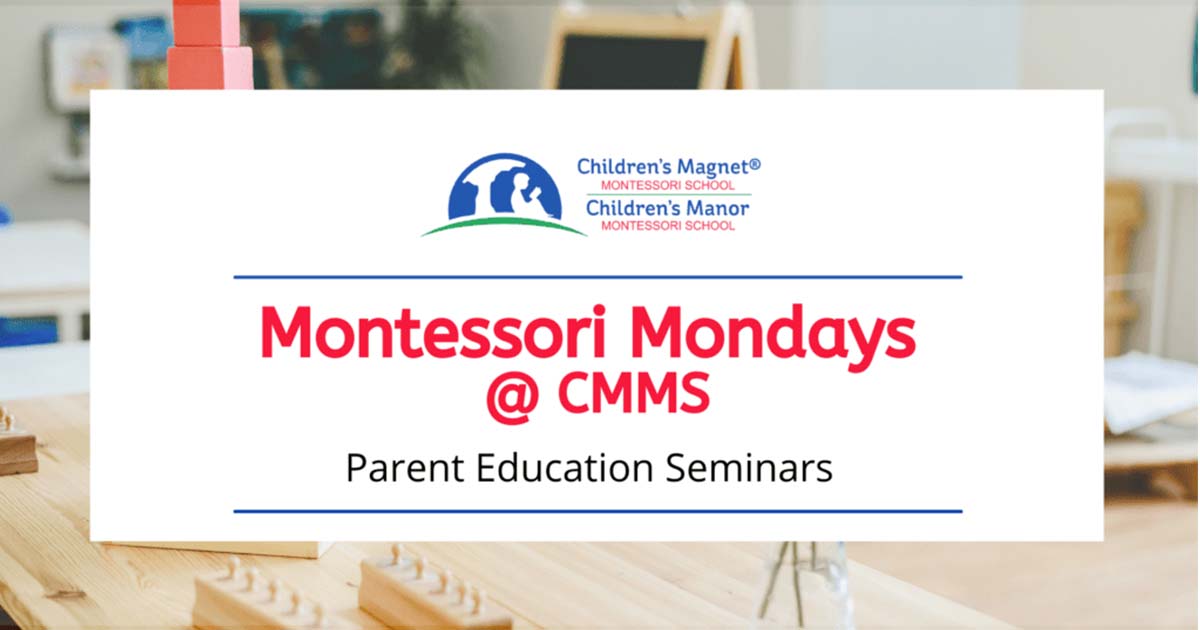 11 Jan

Montessori Monday Parent Education Seminars

If you have ever wanted to learn more about the Montessori methodology, how it nurtures a child's natural development, and how you can create an environment in your home that encourages your child to be resilient and independent, then we would love to connect with you! CMMS has an empowering and inspiring parent education and engagement program that brings parents together so that they can feel connected, continue to grow in their role as parents, and support the work of their children in a school and home setting.

Join our parent education seminars, Montessori Mondays @CMMS, led by Ms. Gaye Novak. Ms. Gaye is a Montessori-certified teacher and Instructional Leader at CMMS with decades of both personal and professional experience in Montessori education. 

Our free Montessori Monday Parent Education Seminars are independent sessions so you can attend select sessions that best fit your schedule and interest or attend all of our sessions! 
Join us for our SY22-23 Sessions
May 1 @ 6:00 PM – Year-End Montessori Parent Q&A

Close out the year and get any additional Montessori parent questions answered from our panel!
About the Instructor
The sessions will be led by Ms. Gaye Novak, an Instructional Leadership Team (ILT) member and lead teacher at CMMS Forest Hill. Ms. Gaye has been a Montessorian as both a teacher and administrator since 1993. She holds an undergraduate degree from Towson University and a graduate certificate from The Maryland Center for Montessori Studies in association with Goucher College.
Register for Reminders About Montessori Monday Seminars