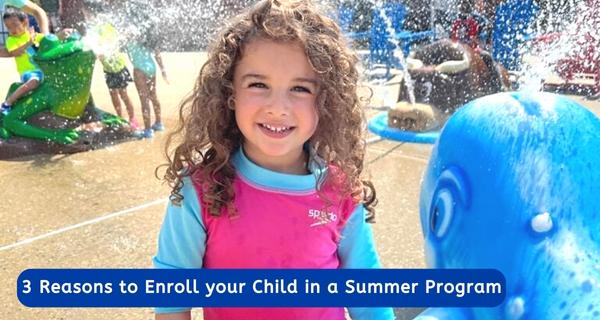 23 May

3 Reasons to Enroll your Preschooler in a Summer Program

As the summer approaches, parents of preschoolers, kindergarteners, and elementary students are often faced with the question of how to keep their children engaged in meaningful activities during the break from their regular school routines. While rest and relaxation during the summer months is an important component of maintaining overall health and wellbeing, we do encourage families to keep their child in an educational setting over the summer to maintain their overall development during the summer months. Below are three compelling reasons why enrolling your preschooler in a Montessori summer program can be a beneficial choice.

1. Promotes Continuity of Learning
Even at such a young age, a summer break can result in a loss of momentum in a child's learning progress. Research has shown that summer learning loss (the loss of skills and knowledge over extended summer breaks) can impact students of all ages. Our educational summer programs play an important role in continuing the growth and development of a student's social-emotional and academic skills and knowledge. The additional time in a Montessori learning environment can provide students with the needed support to get over an educational hurdle or even boost their passion for a certain subject.  Overall, enrolling your child in a Montessori summer program can help promote ongoing learning and prevent this "summer slide." 
Montessori programs are designed to provide a structured and engaging learning environment that fosters a child's curiosity and strengthens their love for learning. Through hands-on activities and individualized instruction, Montessori summer programs help reinforce and build upon the skills and concepts that your child has learned during the regular school year: this consistency in their learning environment can contribute to your child's long term academic success and help them maintain their cognitive, social, and emotional development during the summer months when so many other areas of their lives may be less structured.  
In addition to academic benefits, a summer program can help to deepen the social connections between students with fun interactions and positive memories made together. Things like summer water play days or exploring the natural animal habitats on a Zoo field trip can allow students to gain valuable experiences they may not otherwise have the opportunity to explore.

2. Encourages Independence and Self-Directed Learning
Montessori education is known for its emphasis on promoting independence and self-directed learning. Montessori summer programs continue this tradition by providing opportunities for preschoolers to develop and practice important life skills, such as self-care, decision-making, and problem-solving. In a Montessori program, children are encouraged to explore and choose their activities based on their interests and abilities, allowing them to take ownership of their learning journey. This sense of independence and self-directed learning can boost a preschooler's confidence, motivation, and resilience, which are all vital qualities for lifelong learning success.
At CMMS, our themed weeks have something for everyone and will expose students to everything from music around the world to outer space exploration to fun and fitness. These engaging themes aim to capture a wide-variety of topics to introduce students to new concepts while reviewing the foundational age-appropriate concepts already covered during the academic year. Because students who attend a summer program have a solid routine throughout the summer months, their transition back to school in August is typically much easier for both the student and parents as they move into the new school year.
Children that are given the freedom of choice in a Montessori classroom are more likely to:
Develop a confidence they will carry into new situations all their lives.

Achieve his or her individual learning potential.

Build self-sufficiency and independence.

Develop a sense of purpose and self-motivation.
While enrolling in a Montessori Summer Program is a great way to start your child on this path, there are also plenty of ways that you can sustain the Montessori mindset throughout the summer at home – check out our top tips here.
3. Provides a Rich Learning Environment
Montessori summer programs offer a rich and stimulating learning environment that is carefully prepared to meet the developmental needs of young children. Montessori materials and activities are designed to promote hands-on learning and fully engage the senses, which can enhance a child's understanding and retention of concepts. In a Montessori summer program, preschoolers have access to a variety of Montessori materials and activities, such as sensorial activities, practical life lessons, language and literacy materials, and math manipulatives, which work together to provide a solid foundation for a student's cognitive, social, and emotional development. Furthermore, Montessori summer programs incorporate frequent outdoor activities, nature exploration, and cultural enrichment, which foster a well-rounded education and help your child develop a sense of appreciation and respect for the wider world around them.
In conclusion, enrolling your preschooler in an educational Montessori summer program can be a wise investment in their education and overall development. Montessori summer programs promote continuity of learning, encourage independence and self-directed learning, and provide a rich learning environment that can further enhance your child's cognitive, social, and emotional development.
If you are looking for a Summer Program for your child, Children's Manor & Magnet Montessori Schools Summer Program runs from June 26 through August 25.
For more information about how Children's Manor & Magnet Montessori Schools can impact your child's education and future, you can learn more about CMMS & schedule a tour or visit us at an upcoming open house.