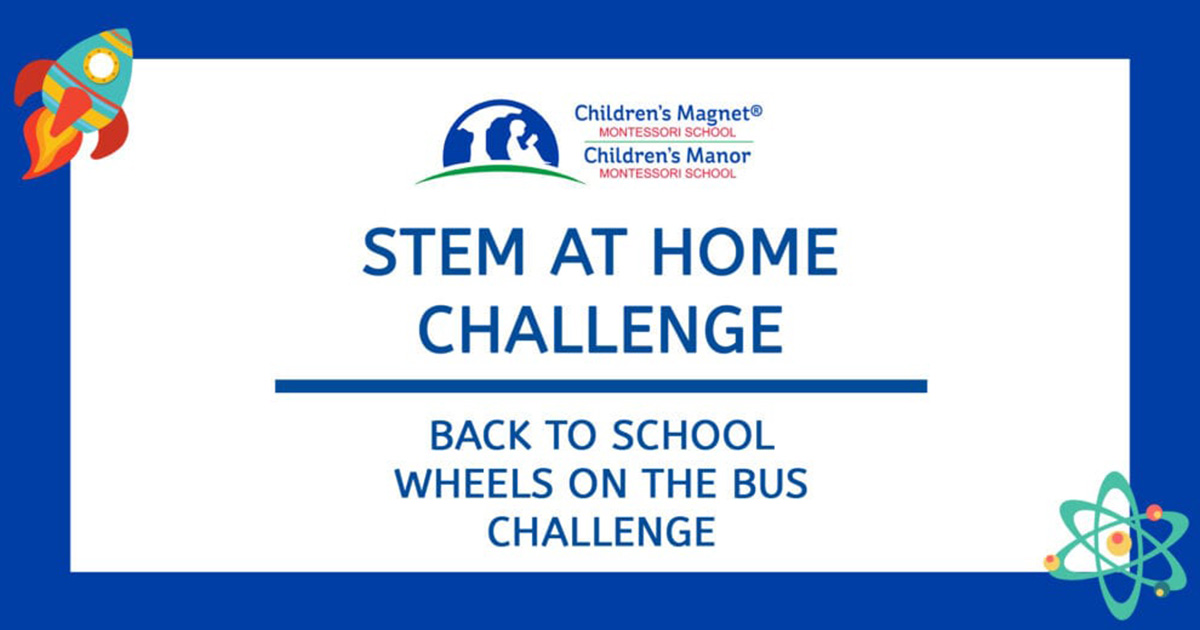 27 Aug

STEM Challenge – Wheels on the Bus

Next week is our first week of school for the 2020-2021 academic year! We are ready to take on some new and exciting STEM Challenges with you! To get ready for next week, try this "Wheels on the Bus" STEM Challenge to see if you can find items in your house to make your bus move. Visit our blog every Thursday to see our latest STEM challenge and share your creations on social media using #CMMSSTEMChallenge or by emailing marketing@childrensmanor.com. Be sure to submit your photos to us by Monday, August 31st!
Materials:
Cereal or other cardboard box 

Crayons, markers, paint, stickers, or anything you want to decorate your bus with

Scissors

Circle Shaped Lid (optional)

Things from home that will act as wheels for your bus, be creative! Here are some ideas:

Cleaning Supply Cylinders

Peanut Containers

Pool Noodles

Empty Cans

Chip Containers
Instructions:
Gather your materials, and start by making sure your cardboard is in a rectangle shape. If using a cereal box it will be good to glue or tape the open side shut.

Then, using a circle-shaped lid or other item, trace, and then cut two half circles on each side of your box to create a space for your wheels. (See photo above)

Next, decorate your bus however you would like. You can design it to be like a regular school bus, or whatever you want it to look like!

Finally, use the "wheel" items you found around your house and try to make your bus move! Try mixing and matching your items to see what happens, but your goal is to make your bus ride smoothly!
We can't wait to see the buses you create! Please be sure to tag us on social media, using #CMMSSTEMChallenge, or email your photos to marketing@chidrensmanor.com by Monday, August 31st!
Idea and photo credits: jdaniel4smom.com