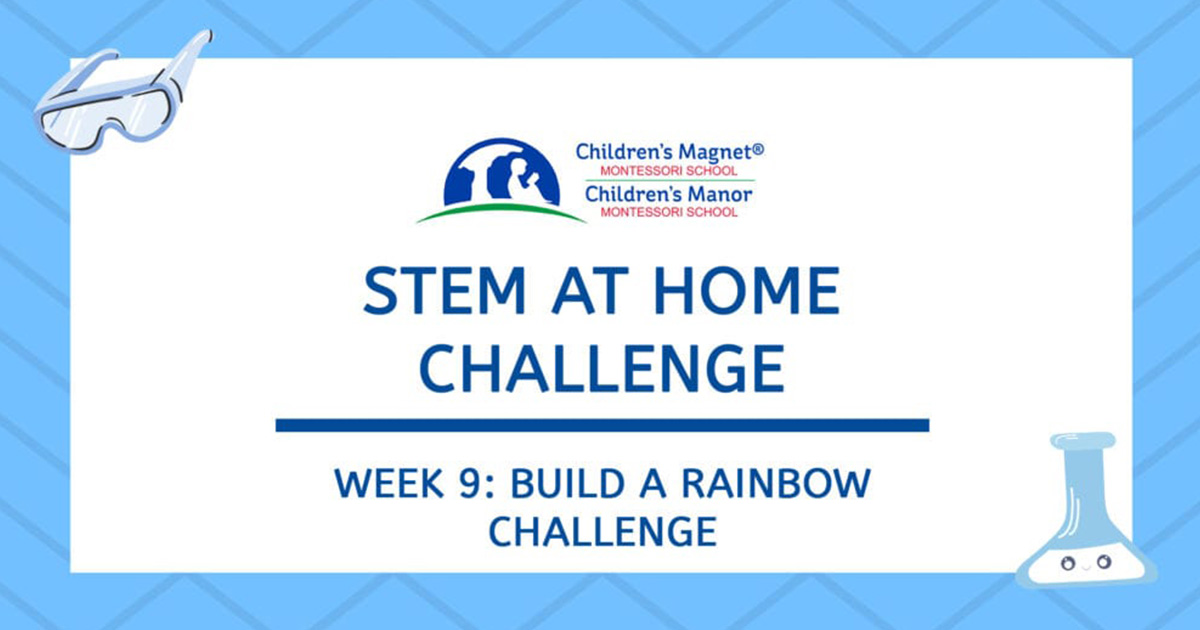 27 May

STEM Challenge Week 9

We can't believe that we are on week 9 of our STEM at Home Challenges! Visit our blog every Thursday to see our latest STEM challenge and share your creations on Facebook using #CMMSSTEMChallenge or by emailing marketing@childrensmanor.com.
Your Goal:
Want to try to grow your own rainbow? Last week you read the Australian Poem, "Tasty Fruit Rainbow." Try to make your own rainbow in this science experiment. Please complete and share your photos with marketing@childrensmanor.com by Monday, June 1, 2020.
Materials:
Paper Towel

Washable Markers or felt tip pens

Water

2 Small Glasses
What is the Science Behind This Experiment?
This science experiment is a great example of chromatography. Chromatography is a way of separating out a mixture of chemicals. If you ever got a paper with ink wet you would have seen the ink move across the page in streaks. The water moves upward through the paper towel, lifting the colored dye molecules with it.
The process: 
Fold over a piece of paper towel (so you have 2 pieces on top of each other). Trim the length to be 7.5 inches (any longer and the rainbow may not connect fully).

TIP: The shorter your piece of paper towel, the better it will connect. Make sure you are using an absorbent paper towel.

Draw rectangles of the rainbow colors on each end. You want to make sure to fill these colors in well so there is enough dye to travel across the paper towel.

Place 2 cups with water filled 3/4 full. You only want the bottom of the paper towel in so leave some space from the top of the cup.

Then place the paper towel into the cups, with one end in each cup. Do not place the ends too deep in the water or the dye may dissolve into the water instead of moving up the paper towel.

The washable marker dye will slowly make its way up with the water to meet the other side in the center of the paper towel. Leave the paper towel for 10-15 minutes and it will eventually connect the colors together.

Share

: Share your photos and results with us at

marketing@childrensmanor.com

.