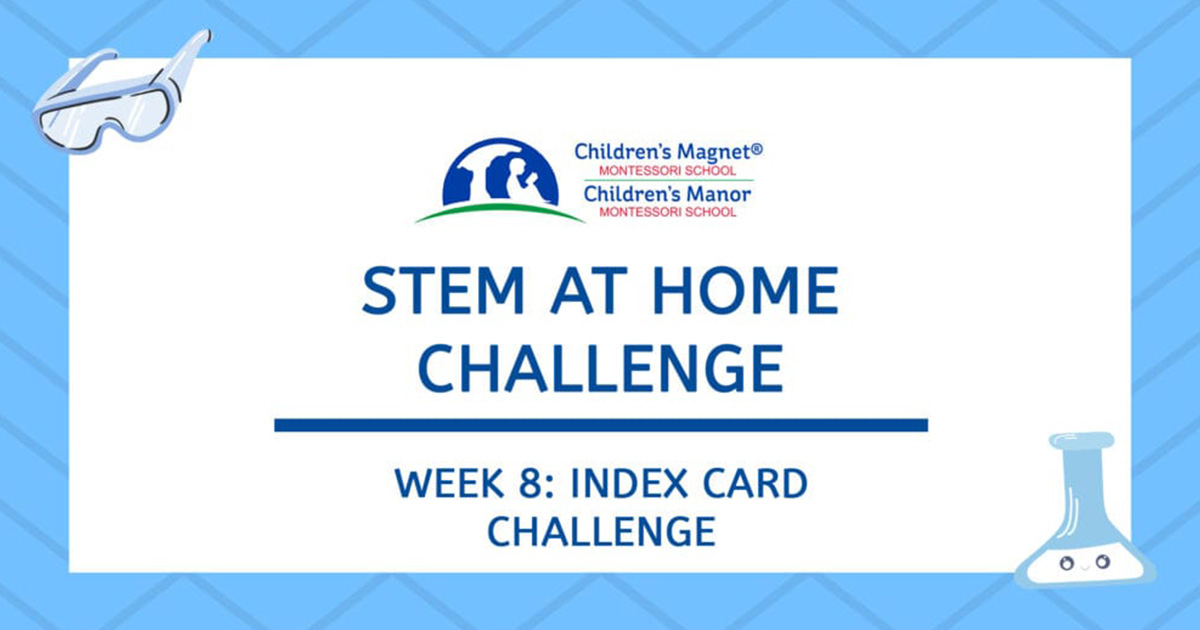 21 May

STEM Challenge Week 8

It's time for week 8 of our STEM at Home Challenges! Visit our blog every Thursday to see our latest STEM challenge and share your creations on Facebook using #CMMSSTEMChallenge or by emailing marketing@childrensmanor.com.
Your Goal:
Use your engineering and math skills to build a structure out of index cards that can hold the weight of a stuffed animal, and then a heavier object like bean bags, a canned food item. Please complete and share your photos with marketing@childrensmanor.com by Monday, May 25, 2020.
Materials:
Up to 100 Index cards or playing cards (or similar thick paper, like construction paper cut into 3×5) 

12 inches of masking or other tape

A ruler or tape measure

Scissors 

Testing items: A stuffed animal, bean bags, a canned good, see what is the heaviest item you can get your structure to hold
Some Rules: 
The structure must be as tall as possible (aim for at least 2 ft tall)

It must be freestanding

It must be able to hold a small stuffed animal (or other object)

You do not have to use all the tape, but don't use any extra.

You may cut the index cards if you wish. 

You may not tape or glue your structure to the table or floor.
The process: 
Brainstorm:

Think about what kind of structure will be able to hold your heavy items. Draw it out and make a plan.

Build:

Start to build your structure, adapt your idea and building structure as you go.

Test:

 

First, take a picture to send to marketing@childrensmanor.com of you and your structure before testing with your heavy item.

Then test your structure by first placing the stuffed animal, to see if it will hold. Then move on to a heavier item and see how far you can go. If you can get a picture with your structure holding your heavy item, please do.

If your structure wasn't able to hold your stuffed animal, brainstorm what may have gone wrong, and try again!

Share: Share your photos and results with us at marketing@childrensmanor.com.
Get the whole family involved in this challenge and see who can build the structure that can hold the heaviest item!