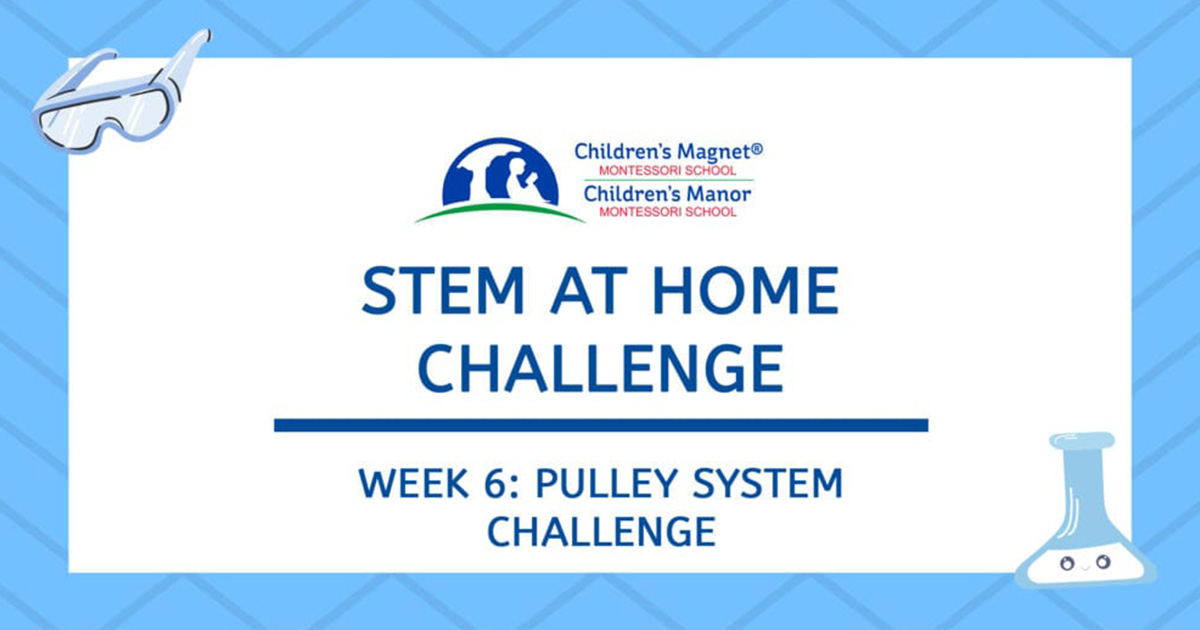 07 May

STEM Challenge Week 6

It's already week 6 of our STEM at Home Challenges! Visit our blog every Thursday to see our latest STEM challenge and share your creations on Facebook using #CMMSSTEMChallenge or by emailing marketing@childrensmanor.com.
Your Goal:
Use your engineering science skills to build a simple pulley system that can move a cup of water or a toy. Think back and use the knowledge about simple machines that you learned in circle time last week! Please share photos of your creation with marketing@childrensmanor.com by Monday, May 11, 2020.
Materials:
You can use anything you can find in your house, but here are some ideas:

Cardboard

Scissors

Glue

String or rope

Wooden skewer or stick

A plastic bottle and bottle cap

A wheel (if you have one)

A bucket
Process: 
Brainstorm:

How does a pulley work? What is a pulley? How can we make one that will move water or a toy with items found around our house? Draw it out on paper first!

You can find some inspiration here.

Gather & Create:

Get creative and gather items from around your house that you can use to make a pulley system. Build your pulley system and test if it can transport water or a small toy.

Results: Share a photo of you and your pulley system with us at marketing@childrensmanor.com so we can show off your engineering skills! If you would also like to take a video of your system in action, please share that on your SeeSaw Class Journal for your classmates to see!
We can't wait to see what you create!