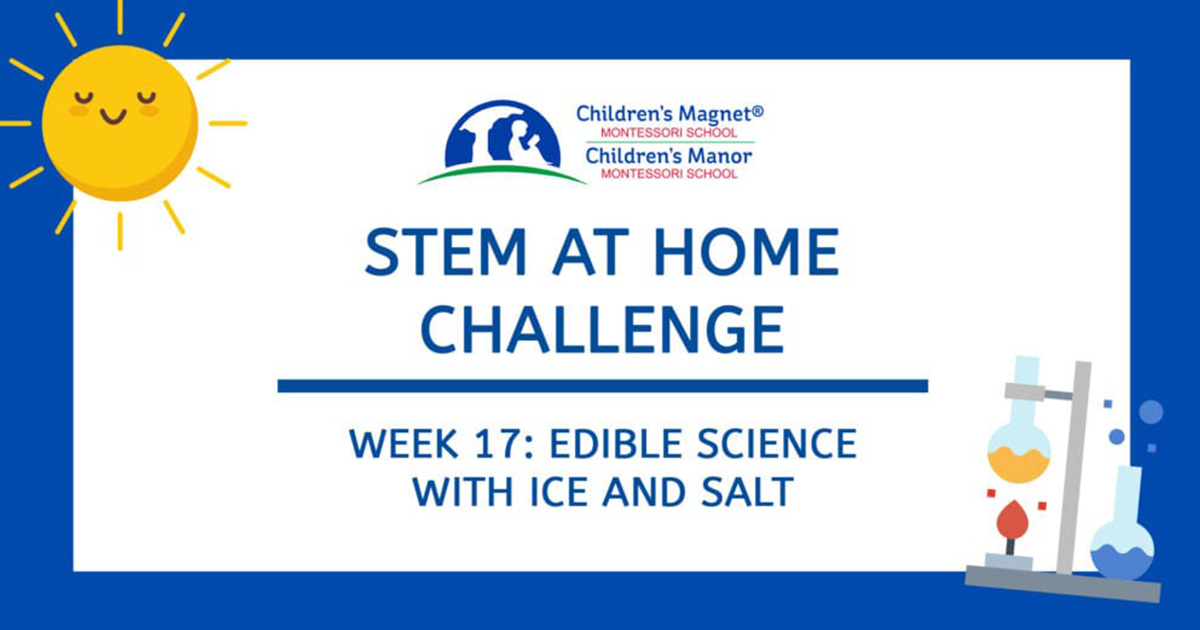 23 Jul

STEM Challenge Week 17

This week we are connecting our STEM Challenge to our Cooking Creations theme, and doing some fun food science by making our own sorbet. Visit our blog every Thursday to see our latest STEM challenge and share your creations on Facebook using #CMMSSTEMChallenge or by emailing marketing@childrensmanor.com. Be sure to submit your photos to us by Monday, July 27!
You Will Need:
Orange juice (or other juice)

Crushed ice (or snow)

Salt (about 4 tablespoons)

2 ziplock bags, one larger than the other

Warm gloves
Directions:
Pour orange juice into the smaller ziplock bag. Squeeze out excess air and seal.

Place the bag of orange juice inside the larger ziplock bag.

Fill the larger bag with crushed ice so that it surrounds the orange juice bag.

Add salt to the ice. You can measure out about 4 tbs or sprinkle liberally. 

Squeeze out excess air and seal the large bag containing everything.

Gently massage the bag with your gloves on so that the salty ice is constantly coming into contact with the orange juice bag.

Continue squishing for 5-10 minutes, observing the changes in how the orange juice looks and feels.
What Happens:
You should notice that the orange juice gradually solidifies and turns into sorbet!
You can now enjoy this special treat that you made!
The Scientific Explanation:
Adding salt to ice lowers its freezing point. The ice wants to melt back to water, but to do this it needs to absorb heat from somewhere – in this case, the orange juice. Heat is transferred from the orange juice to the ice, freezing the orange juice.