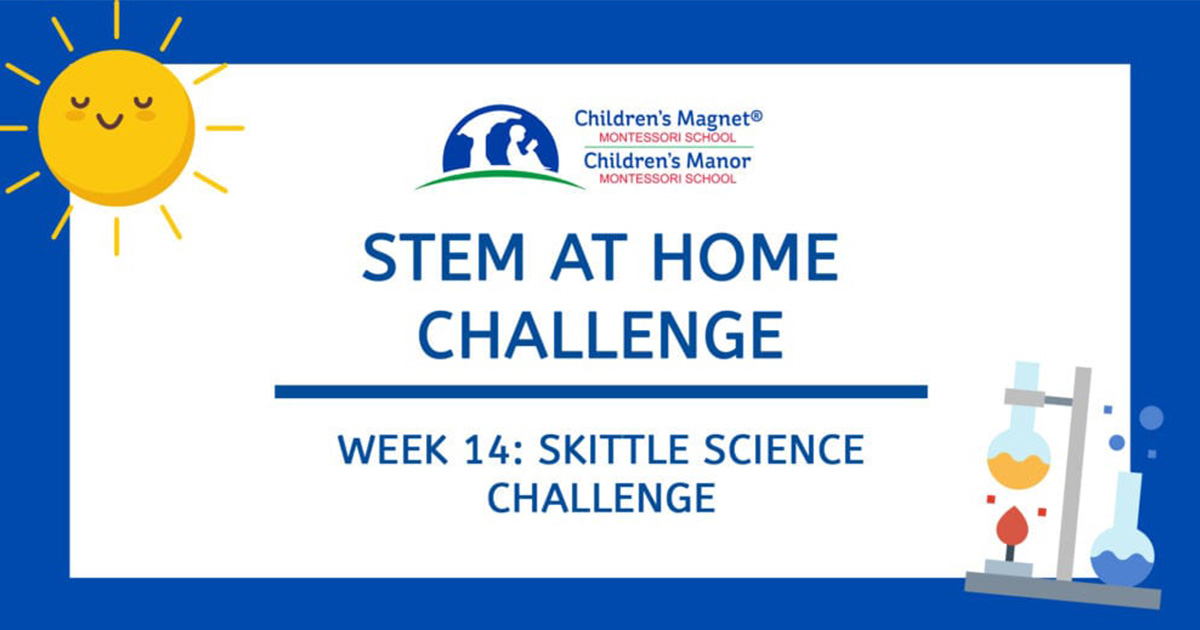 02 Jul

STEM Challenge Week 14

This week we are doing some 4th of July themed science! Visit our blog every Thursday to see our latest STEM challenge and share your creations on Facebook using #CMMSSTEMChallenge or by emailing marketing@childrensmanor.com. Be sure to submit your photos to us by Monday, July 6!
Background:
This Skittles science experiment explores many different scientific principles and properties, such as colors, solutions, stratification, and dissolving.
Directions:
Start by setting your white plate on a flat surface.

Next you want to open the Skittles and sort by color.

Arrange the Skittles in a striped flag, stars, or fireworks pattern. You can group like colors to create separate red, white, and blue stripes, or multi-colored colored fireworks.

When you are done arranging your pattern, slowly pour warm water onto the plate, just enough so that all of the candies are in the water, but taking care not to overflow the plate. Make sure to pour it onto the plate and not directly onto the skittles. You can use a spoon to pour the water if you would like.

Sit back and get ready to watch your awesome design expand!

Send a photo of you and your design to marketing@childrensmanor.com by Monday, July 6 to be featured on social media!
Observations:
How long does it ta

ke for the color to completely separate from the Skittles?

Do the colors mix?
Explanation:
Water Stratification is what keeps the colors from mixing right away. Each color of Skittle has a slightly different chemical make up which, when dissolved, creates a water solution that has slightly different properties such as density, salinity, and oxygenation. This creates a barrier that prevents the water from mixing and is why salt water and fresh water do not mix.
Other things to try:
Try the experiment again with cold water! How do the results differ from using warm water? Do the colors dissolve faster or slower?

Do the colors ever mix (for both warm and cold water)? How long does it take? Does cold water or warm water mix faster? The same?

Try the experiment with white vinegar! What do you observe?

Do different patterns of Skittles affect the way colors dissolve or if they do/don't mix?