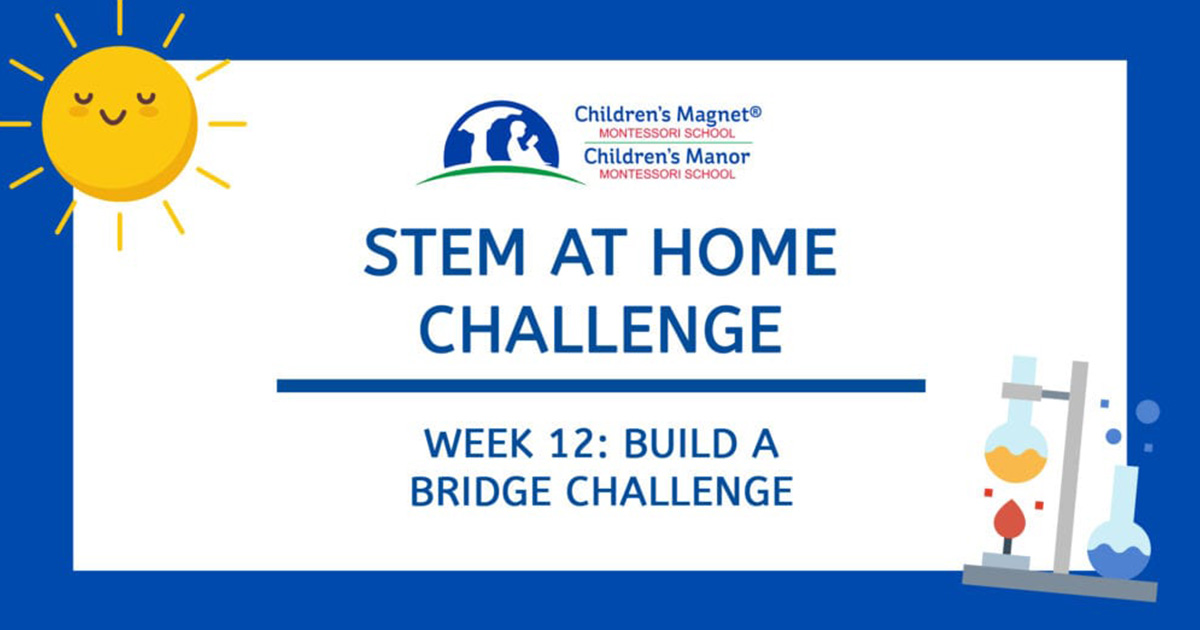 18 Jun

STEM Challenge Week 12

This week you learned about Maryland and the Chesapeake Bay bridge. Your challenge is to engineer and build your own bridge using items in your home. Visit our blog every Thursday to see our latest STEM challenge and share your creations on Facebook using #CMMSSTEMChallenge or by emailing marketing@childrensmanor.com by Monday, June 22!
Background:
An engineer must take into consideration many things when planning a bridge or even fixing an old bridge.
How long must the bridge be? What is the water like?

What is the land around the water like? Rocky, muddy, sandy?

Who will be using the bridge? Cars? Pedestrians? Bicyclists? Big trucks? How much weight does it need to support? 

What materials should be used to build the bridge?

What style should the bridge be? 
Materials:
Paper, pencils, and crayons or markers for planning and drawing bridges

Blue paper (or a scarf, pillow, blue fabric or something else similar) to use as water under your bridge

Building supplies can include cardboard tubes, pieces of cardboard, popsicle sticks, plastic cups, straws, pipe cleaners, styrofoam, egg crates, or whatever you have on hand.

Tape and paper clips are easy ways for students to attach materials without a mess, but glue can certainly be added, too. If applicable, provide appropriate scissors.
The process: 
Plan and Build:
Start your bridge building activity by taking a look at

different styles of bridges.

What is your favorite type? 

Discuss how strong our bridge should be – Will it be for cars or just people? What about the landscape around the bridge? Rocky, Muddy, Sandy? How big is the water that will be under the bridge?

The next step is to use paper and pencil to develop a design for your new bridge.

After planning, go ahead and build your bridge. Arrange your blue 'water' so that you know how long your bridge needs to be to cross it.

Build your bridge using items you found around your home, and test if some of your small toys/cars are able to go across! Send a photo of you and your bridge to marketing@childrensmanor.com by Monday, June 22.