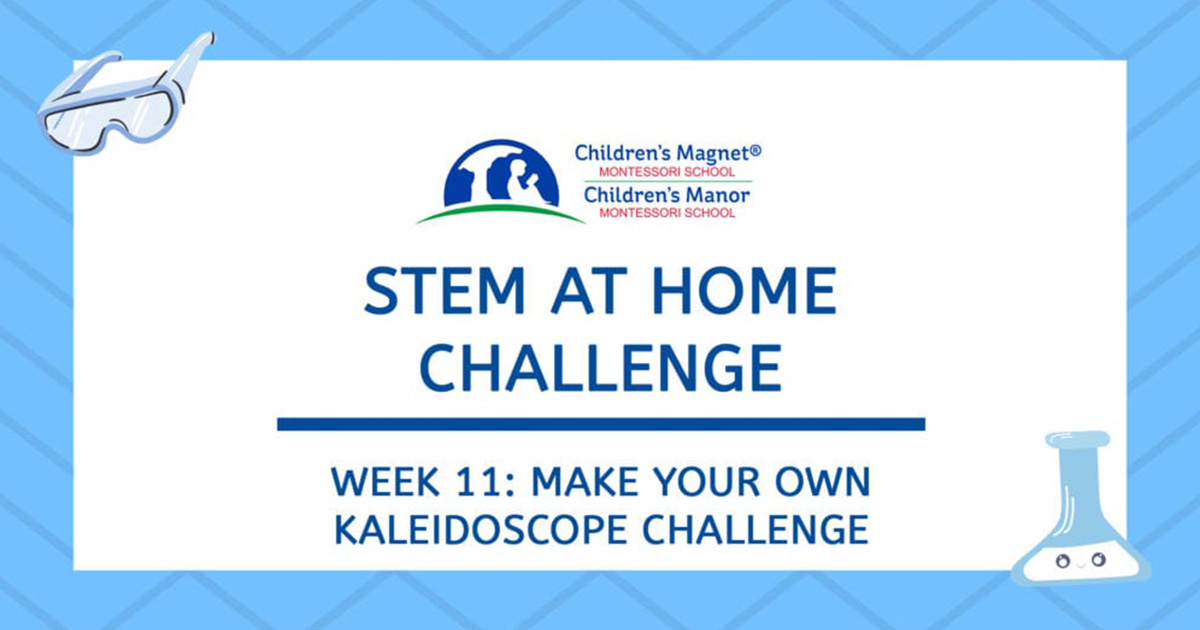 11 Jun

STEM Challenge Week 11

This week your challenge is to build your own kaleidoscope using items in your home or recycling bin! Visit our blog every Thursday to see our latest STEM challenge and share your creations on Facebook using #CMMSSTEMChallenge or by emailing marketing@childrensmanor.com by Monday, June 15!
Your Goal: 
Make a kaleidoscope using items you find in our home and/or recycling bin. If you need inspiration for what materials to use, do a search online about how to make your own kaleidoscope. Please complete and share your photos with marketing@childrensmanor.com by Monday, June 15, 2020.
How does a kaleidoscope work?:
A kaleidoscope consists of a tube with several mirrors on the inside. Mirrors are special surfaces that reflect (or bounce back) light very clearly. When you look into a mirror, you see a reflection of yourself, which is created by light that bounced back to your eyes off the mirror.
Materials:
Paper towel tube, 2 toilet paper tubes, or a Pringles can

12 x 12 card stock or scrapbook paper to decorate/cover your tube

Thin clear plastic (can be scrap from packaging)

Colorful translucent beads,

buttons, glass stones, glitter

Cardboard

Aluminum foil

Hot glue gun, wet glue, or tape

Scissors

Marker

Washi tape or other decorations (optional)
The process: 
Directions:
Start by gathering up all of your supplies.

If you are using plain white paper to cover your tubes, color, and draw on it. Then, squeeze glue all over the back of the paper and roll the paper towel tube up in it. Hold it together for a few seconds to give the glue time to stick. Cut any excess paper from the ends.

Trace the end of the paper towel tube on the scrap plastic three times and cut out all three circles. Glue or tape one circle on the bottom end of the paper towel tube.

Drop your beads or other translucent items into the tube. Put enough to almost cover the plastic. Then place the second plastic circle inside the tube. You will need to use a pencil or marker to push it down to the bottom and loosely cover the beads. Do not push it snug up against them! If it is too tight, then the beads won't move around between the plastic discs.

Cut three strips of cardboard that are 1 inch wide and almost as long as the tube you are using. Cover each strip with foil. Glue them into a triangular prism shape and place inside the tube. This will create the kaleidoscope effect when you look inside! Note: The triangle pieces need to be almost as long as the tube. Just a little shorter to make sure the end cover goes on right.

Now, glue the last plastic circle on the open end of the paper towel tube. This will be the end you will look through. 

Test: Make sure your glue is dry and then hold your homemade kaleidoscope up to the light and turn to view! Safety First!: Do not look directly into the sun with your kaleidoscope.