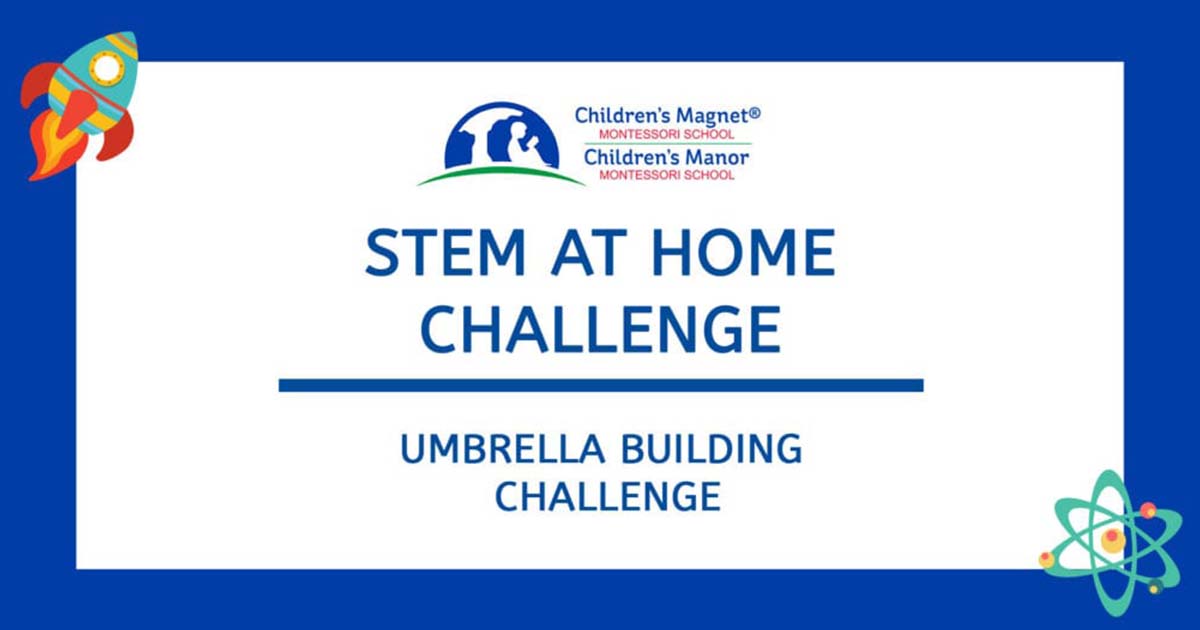 29 Apr

Stem Challenge: Umbrella Building Challenge

April showers bring May flowers! Since this rainy month is coming to an end, we are going to do a spring-themed activity for this week's #CMMSSTEMChallenge! Umbrellas are extremely useful items to protect you from the rain, so in this activity, we are going to see if you can create an umbrella out of household items.

Visit our blog every Thursday to see our latest STEM challenge and share your creations on social media using #CMMSSTEMChallenge or by emailing marketing@childrensmanor.com. Be sure to submit your photos to us by Monday, May 3, 2021!

Submit your photos by May 3rd to be entered into our drawing to win a #CMMSSTEMChallenge Prize Pack! For each STEM Challenge you submit to marketing@childrensmanor.com throughout the month you will receive one entry into our April drawing. If you do all 5 challenges in April, you will receive an extra entry! Please make sure to provide your student's full name and school location affiliation in your email. We will announce the winner on our social media pages on May 4th!
Materials:
Household materials you can use to build your umbrella (sponges, popsicle sticks, coffee filters, paper plates, etc.)
Small toys
Baking Tray (to contain the 'rain')
Glue, tape, string, etc
Watering can or water bottle
Scissors
Directions:
See if you can build a working umbrella on top of your baking tray to keep your small toys dry using the supplies you find around your home.
Before building, come up with your design plan and sketch out some blueprints before proceeding. In your final photo we will want to see your blueprint next to your final prototype!
Next, build your prototype. Put your small toys underneath your model; your goal is to build an umbrella that keeps your toys dry.
Test your design by setting up the umbrella over the toys and gently sprinkling water onto them (a watering can works well for this).
Did the toys stay dry? If not, brainstorm and create another design and/or alterations to your design to make it better. What design worked best? What designs were not as good? What were the best parts and worst parts of each design? How could you improve on them in the future?
In this open-ended STEM challenge, there isn't one "right" answer. It's all about accessing your creativity and knowledge to come up with a new solution for a problem. In this case, it's how to make a better umbrella using household supplies. This challenge should make you think about what an umbrella needs to do and how you can use the materials you have on hand to keep dry during a rainstorm.