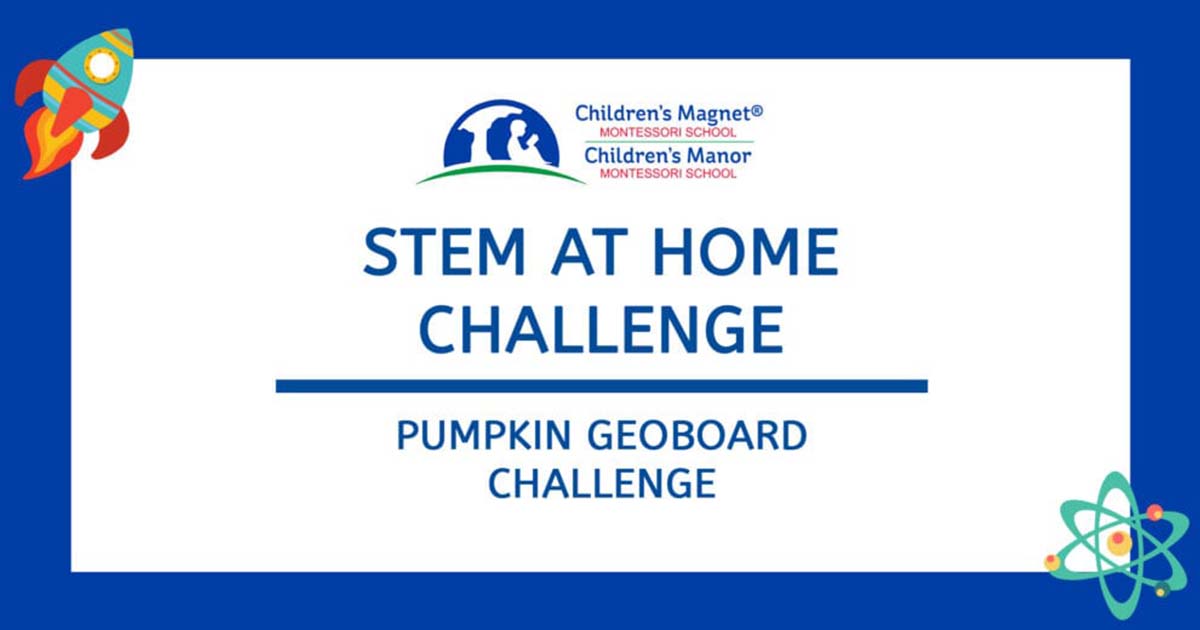 15 Oct

STEM Challenge – Pumpkin Geoboard Challenge

Over the next couple of weeks you are going to be learning a lot about pumpkins! This week's STEM Challenge combines pumpkins with a little bit of geometry. We are going to be creating pumpkin geoboards. Geoboards are used for creating art, exploring shapes, and developing visual skills. They are also great for working on our fine motor skills! Let's learn how to make our own pumpkin geoboard at home.

Visit our blog every Thursday to see our latest STEM challenge and share your creations on social media using #CMMSSTEMChallenge or by emailing marketing@childrensmanor.com. Be sure to submit your photos to us by Monday, October 19!
Materials:
A pumpkin (a smaller, pie pumpkin will be easier to work with but any pumpkin is fine!) If you do not have a pumpkin you can also use a piece of cardboard on a flat surface.

Rubber bands or loom bands

Pushpins and/or Golf tees. 

The larger golf tees may be better for our younger students.

Wooden mallets – the mallets can be used to help hammer in the golf tees.
Instructions:
Place all your materials out on a table or in a bin on the floor.

Begin pushing in your push pins and or golf tees all over the pumpkin.  You can place them wherever you'd like! 

Parents, please be sure to instruct your child on the proper way to push in a pushpin if you choose to use them.

Once you are happy with your pin placement, begin to create shapes by putting the rubber bands around the pins. See what different shapes and letters you can make! We suggest: squares, triangles, rectangles, circles, pentagons. For an extra challenge, can you make a star?
Be creative with this activity and add as many shapes and patterns as you would like to decorate your pumpkin geoboard!  Be sure to send a picture of you with your finished product to marketing@childrensmanor.com by Monday, October 19!
Activity Credit: Fun-a-Day. Check out their website for more fun activities!