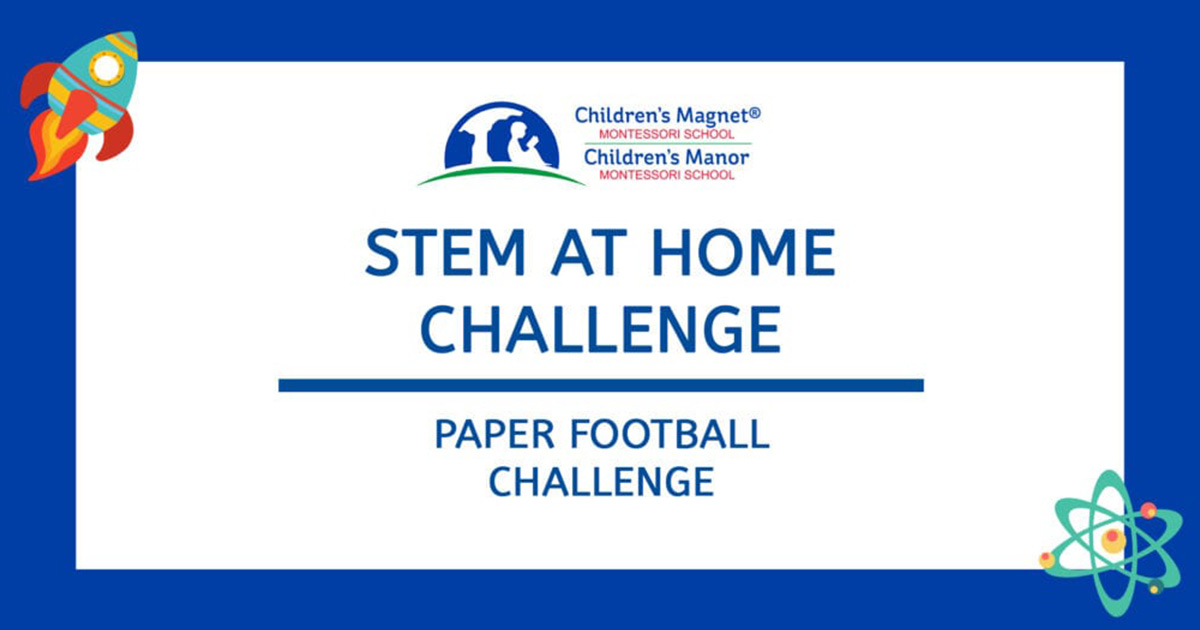 24 Sep

STEM Challenge – Paper Football Challenge

You have been learning about all different kinds of shapes and sizes! Let's take your knowledge of shapes and explore the science of aerodynamics by playing this unique take on paper football. We want you to experiment with many different shapes to see how far you can flick these custom made "footballs."

Visit our blog every Thursday to see our latest STEM challenge and share your creations on social media using #CMMSSTEMChallenge or by emailing marketing@childrensmanor.com. Be sure to submit your photos to us by Monday, September 28!
Materials:
Recyclables and other objects from around the home (straws, paper cups, cardboard tubes, etc.)

Scissors

Tape

Paper
Instructions:
Make a hypothesis: which shape do you think will be easiest to flick through the goal post?  Which shape do you think will travel farthest? 

Gather your materials and build two football goal posts using objects found around the house. Try to use recycled materials found in your home to decorate your goal post!

Next, find a smooth flat surface to use as the game field.

Then, fold sheets of paper into different shapes: consider making triangles, squares, crumpling the paper into a ball, or any other shape you want to try.

Attempt to make field goals by flicking these newly created shapes through the goalposts.

Discover which paper shapes travel the farthest and highest! Was your hypothesis correct?
What are we learning?
In this activity, students can explore the science behind projectile motion and experience firsthand how gravity causes a thrown, kicked or flicked object to fall in what's known as a parabolic arc. Additionally, students learn to identify that geometry and shapes are everywhere around us — even in sports!