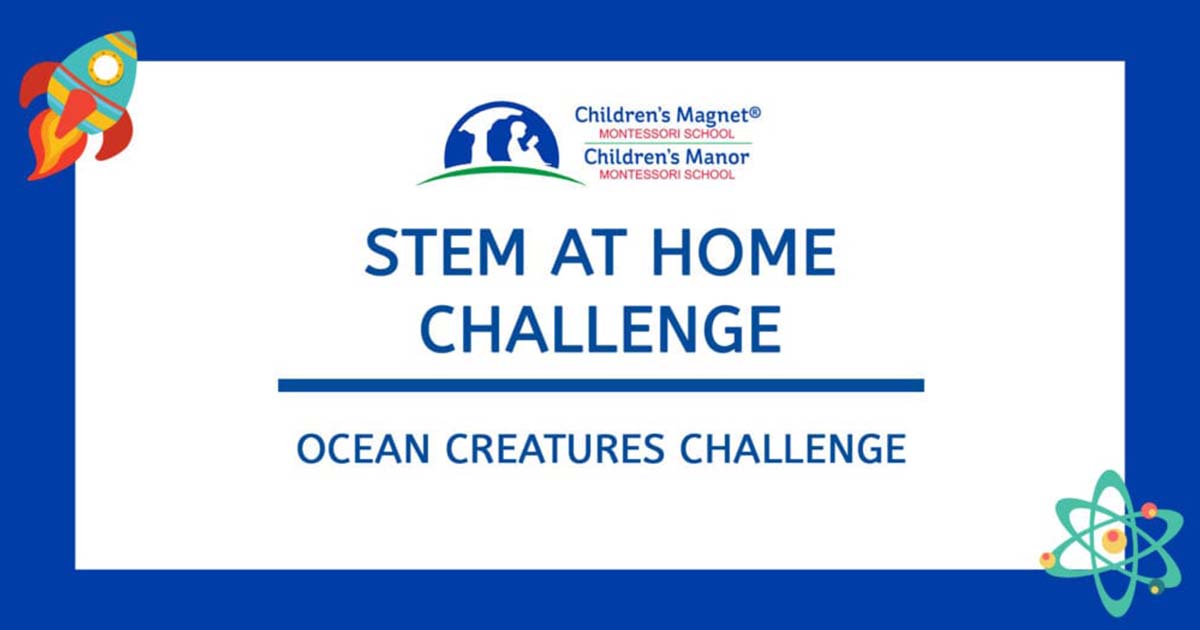 13 May

Stem Challenge: Ocean Creatures Challenge

We have been focusing on Australia this month! Next week, you are going to learn all about the Great Barrier Reef, but did you know that two of your favorite movies were set there? The story of Finding Dory and Finding Nemo both started in Sydney, Australia! However, as you may know, pollution is threatening the reef's ecosystem. 

This week for our #CMMSSTEMChallenge we are going to explore some ocean-themed activities and create our favorite characters from recycled plastic! This STEM challenge is pulled from a Disney Nature Educational Team. This packet has information you and your parent/guardian can read on how to protect these animals and other fun activities for you to do!

Visit our blog every Thursday to see our latest STEM challenge and share your creations on social media using #CMMSSTEMChallenge or by emailing marketing@childrensmanor.com. Be sure to submit your photos to us by Monday, May 17, 2021!
Introduction:
Imagine you are going snorkeling with your family and you see fish of many colors and different plants and structures. You are exploring an underwater neighborhood that has been around for more than 200 million years, called a coral reef. Twenty-five (25) percent of all marine life found in the ocean live in coral reefs and depend on each other for survival. Coral reefs only cover 0.0025 percent of the oceanic floor, but they generate half of Earth's oxygen and absorb nearly one-third of the carbon dioxide generated from burning fossil fuels. That's why it is so important to take care of our oceans. 
To begin, please read Page 10 of Finding Dory Packet to learn how you can make a difference. To learn more about the plants and animals that live on a coral reef you can also watch this video. Our official STEM Challenge this week is to create either the Dory or Hank character out of recycled bottles! This activity is found on page 11 of the Finding Dory Packet, and also listed below. However, we also invite you to work through the rest of the activities in the packet to learn more about ocean creatures and ways you can help keep them healthy and safe.
Materials:
Plastic bottle

Stapler

Marker

Paint and paint brush

8 Colored Pipe Cleaners or other string to represent octopus tentacles

Scissors 

Hole punch

Craft eyes (optional)
Directions for Dory:
Rinse the recycled plastic bottle and remove the label

With a marker, draw a fishtail on the middle center of the bottle.

(example of this step is shown on page 12 of the

Finding Dory Packet

)

Take the cap off and set it to the side.

With a parent's help, cut the bottom of the bottle and cut along the fishtail you have drawn.

Put the cap back on.

Paint the inside of your fish bottle. (choose blue if you want it to look like Dory!)

Let it dry, once dry add three staples to the ends to close the bottle.

(example of this step is shown on page 12 of the

Finding Dory Packet

)

Paint on some craft eyes and other details and you have created your very own dory!
Directions for Hank:
Use the bottom half of the recycle bottle you cut for to make dory for Hank!

(example of this step is shown on page 12 of the

Finding Dory Packet)

Paint the inside of the plastic bottle and let it dry. (choose red or orange if you want it to look like Hank!)

Once dry, use your hole punch to make 8 holes around the open rim of the bottle.

Tie a pipe cleaner to extend from each hole to create octopus limbs

Carefully add a hole to the top of the octopus and tie a pipe cleaner so you can hang it!

Paint and add eyes and any other details, and you've created your eco-friendly Hank!