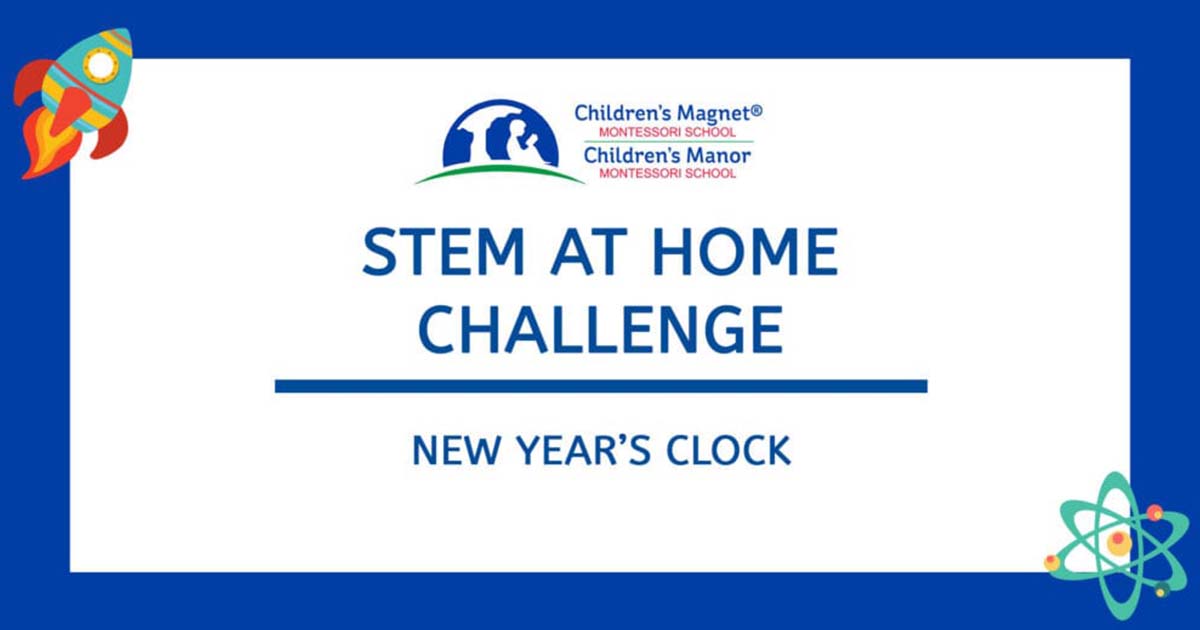 30 Dec

STEM Challenge – New Year's Clock

Happy New Year! This week you are going to make a clock that you can use to countdown each hour until midnight!  (if your parents let you stay up that late!) The countdown clock is going to be made from paper plates and have movable hands so you can move them each hour up until the clock strikes 2021. (You can also use this clock later to practice telling time and counting numbers.)

Visit our blog every Thursday to see our latest STEM challenge and share your creations on social media using #CMMSSTEMChallenge or by emailing marketing@childrensmanor.com. Be sure to submit your photos to us by Monday, January 4!
Materials:
Paper plates 

Brads or other material that will let you connect your movable hands (like a twist tie from a loaf of bread)

Cardstock or foam sheet to make the clock hands

Single hole punch

Scissors

Number stickers or a marker 

Optional supplies to decorate your clock: glitter, pipe cleaners, star sequins, foam stickers, or anything else you have handy and would like to include!
Directions:
Start by making the numbers on your paper plate clock face. You can use number stickers or write them with a marker.

Cut out two clock hands for your clock using cardstock or foam sheets. 

Punch or cut a hole in each clock hand. Poke a hole in the center of your plate. Attach the clock hands to your clock with a brad or similar item.

Decorate your clock! Here's a few possible suggestions:

Spread glue around the edge of your plate, and cover it with glitter. Shake off the excess glitter to make a glittery clock.

Glue some large sequins around the edge of your plate. 

Punch holes around the edge of your plate. Twist some pipe cleaners through the holes. (You can make them spiral by wrapping them around a pencil.)

To help you know when the new year will arrive, attach a '2021' sign to the top of the clock with a popsicle stick and some glue. Now you can visually see when the new year will start- when both clock hands point up to the '2021'!