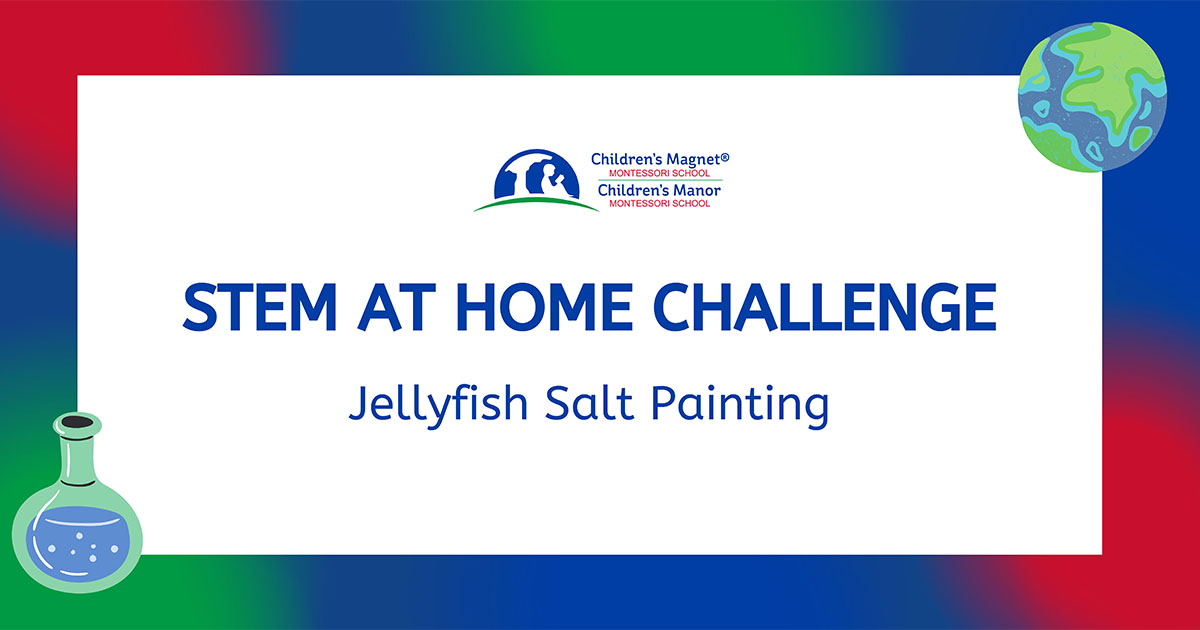 12 Jul

Stem Challenge: Jellyfish Salt Painting

Join us at home for a #CMMSSTEMChallenge as we continue our Summer Program 2022! This week's theme is Artscape. Students will have hands-on opportunities to explore and experience painting, music, theater, dance and other forms of expressive art! 

We might have been Under the Sea last week, but let's jump into Artscape week with an activity that combines both themes – a jellyfish salt painting activity! Take on an artistic challenge and bring your jellyfish to life. 

Share your creations on social media using #CMMSSTEMChallenge or by emailing marketing@childrensmanor.com. 
Materials:
Wet Glue

Paper (Any color) – cardstock will work best for this activity

Liquid Watercolors or Food Coloring mixed with water (Tip: Use neon colors for bright results!)

Paintbrush/Pipette/Eye Dropper

Salt
Directions:
Begin squeezing your Elmer's Glue into a jellyfish shape on your paper. Use your imagination to create your unique jellyfish! You can ask your parents for help to research some reference images if needed.

Carefully shake salt over the glue until it is covered to ensure the salt will stick. Shake off excess salt into a trashcan.

If you do have liquor watercolor paint, dip your paintbrush into the paint and dab at the salt covered glue lines. If you are using food coloring, take a few plastic cups and fill them with water. Place a few drops of food coloring into the plastic cups, then using your paintbrush, paint and dab at the salt covered glue lines.  The paint will begin to travel and colors will mix! 

You're all done! Let your jellyfish dry for at least a day, we promise it won't swim away!