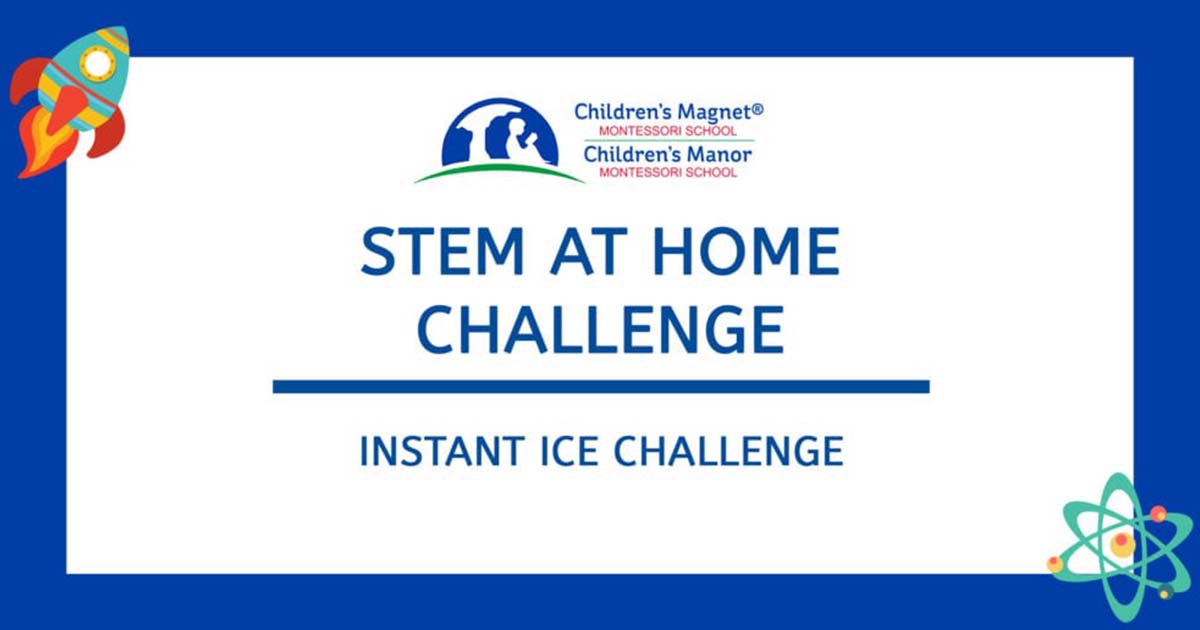 03 Dec

STEM Challenge – Instant Ice Challenge

Throughout December we will be focusing on the continent of Antarctica! You will learn about the climate and plants and animals. You will also be learning about temperature, thermometers, and studying solids, liquids, and gases. To get you familiar with this concept, this week we are doing an instant ice winter science experiment.

Visit our blog every Thursday to see our latest STEM challenge and share your creations on social media using #CMMSSTEMChallenge or by emailing marketing@childrensmanor.com. Be sure to submit your photos to us by Monday, December 7!
Materials:
Water bottles – We suggest 6 for this activity. You can refill and reuse plastic bottles or other containers for this experiment – you do

not

have to use water straight from the bottle.

A few ice cubes

Small plastic container/tupperware
Background:
The secret to this experiment is in how ice freezes. In this experiment, you will lower the temperature of the water to just below freezing, but not cold enough to actually freeze.
When the water molecules start to move when the water is shaken or poured, they instantly freeze, making it look like you can pour ice directly from a water bottle!
There are a few tricks to this experiment. It takes about an hour in the freezer to get the bottles to the right temperature. You can tell it's the right temperature when you hit the bottle on the counter and ice particles form inside the bottle. If you wait much longer though, your water will fully become ice (unable to be poured), making the experiment impossible.
Directions
Cool your water bottles in the freezer for about an hour. Check every 30 minutes or so by hitting one bottle on the counter to see if ice forms.

Place a couple of ice cubes on your upside down container. This will form the base of your ice tower.

Carefully pour the water slowly onto the ice cubes. It should start to form an ice tower right away. If it doesn't, your water is too warm.

Keep pouring gently until the ice tower stops forming. You can use your other bottles from the freezer to make the ice sculpture even bigger. Once the water warms up, it will start to destroy the tower, so watch out when you're pouring!