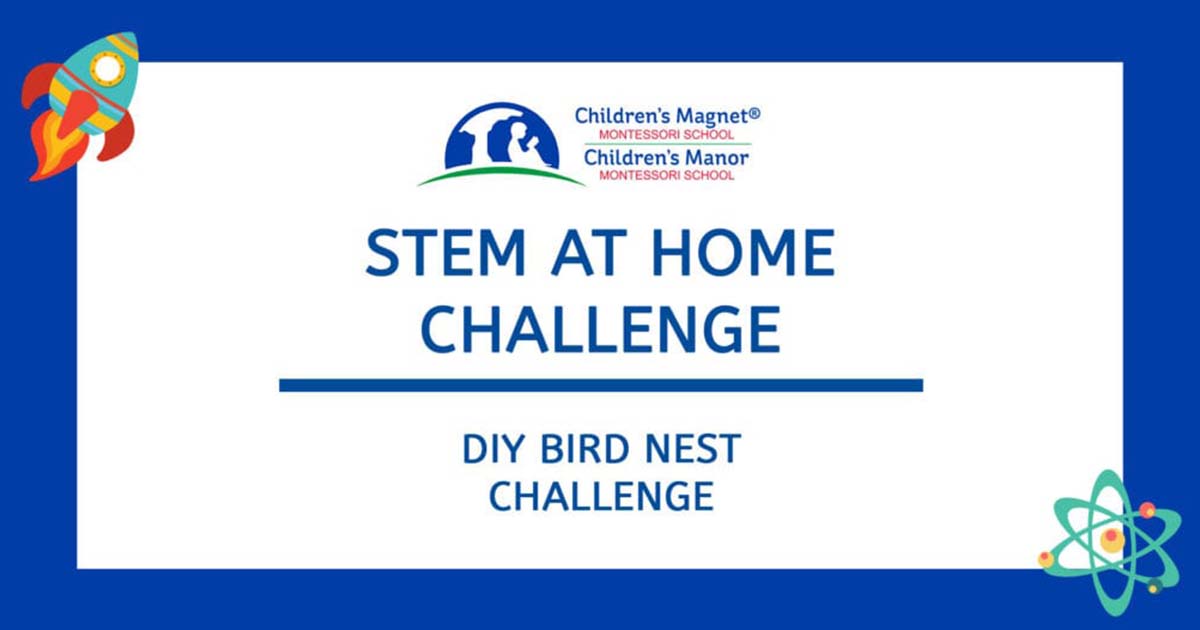 08 Apr

Stem Challenge: DIY Bird Nest

This week's #CMMSSTEMChallenge is to have you build your own bird's nest out of recycled paper and glue. This will test your creativity, engineering skills, practical life skills, and gross motor skills!

Visit our blog every Thursday to see our latest STEM challenge and share your creations on social media using #CMMSSTEMChallenge or by emailing marketing@childrensmanor.com. Be sure to submit your photos to us by Monday, April 12, 2021!

Submit your photos by April 12th to be entered into our drawing to win a #CMMSSTEMChallenge Prize Pack! For each STEM Challenge you submit to marketing@childrensmanor.com throughout the month you will receive one entry into our April drawing. If you do all 5 challenges in April, you will receive an extra entry! Please make sure to provide your student's full name and school location affiliation in your email. We will announce the winner on our social media pages on May 4th!
Materials:
Construction paper, newspaper, catalogs, magazines – anything you can cut into small shredded paper
Shredder, paper cutter, or scissors
Elmer's glue
Thick paint brush, toothbrush, or other brush
Bowl (this bowl will be the size of the nest)
Plastic wrap
Directions:
First use the shredder, paper cutter, or scissors to cut up your paper into strips of about 1/4″ in thickness. The strips can vary in length. You can play around with the color of the paper to make your nest more colorful.
Next, put plastic wrap on the inside of the bowl. Mix glue with water (half and half), and brush glue all on the inside of the bowl on top of the plastic wrap. Then take the individual strips and arrange them in a criss-cross design around the inside of the bowl.
Wait a while for the glue and paper to dry a bit, and then paint on more glue to keep the layers down and secure. Keep adding more strips until about 4 layers have been formed. This is where you can be creative! Experiment with putting the strips in different patterns and different sections of the bowl, so it looks like a real nest. You can also make the pieces stick out at the top so it looks more realistic. If your fingers get too sticky during this step use a wet paper towel to wipe them.
Let the bowls dry overnight. The next day, gently lift the nest out of the bowl and peel off the plastic, and now you have created a beautiful and delicate nest!  You can even use these nests to hold small/light items around your house.
Take a photo of you with your nest and submit to marketing@childrensmanor.com by Monday, April 12 in order to be entered into our April Prize Pack Drawing!