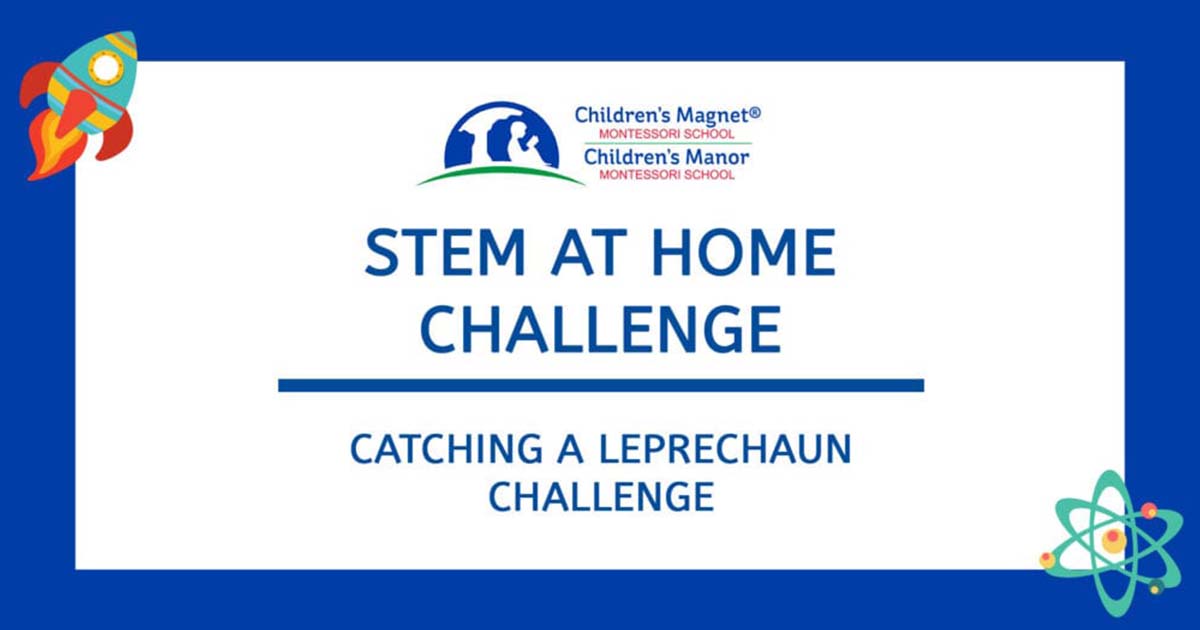 11 Mar

STEM Challenge: Catching a Leprechaun

St. Patrick's day is next week so we are going to do a special themed STEM activity. St. Patrick's day's traditions include pots of gold, shamrocks, and everyone's favorite little friends, Leprechauns! This week you are going to build a special contraption using your STEM skills to try and catch a Leprechaun.

Visit our blog every Thursday to see our latest STEM challenge and share your creations on social media using #CMMSSTEMChallenge or by emailing marketing@childrensmanor.com. Be sure to submit your photos to us by Monday, March 15, 2021!
Suggested Materials:
Materials to create a Leprechaun Trap, such as:

Shoe boxes/soda can boxes/cereal boxes… any kind of box!

Yarn/string

Pipe cleaners 

Paper

Art supplies

Tape

Popsicle sticks

Paper towel rolls

Plastic cups

Bubble wrap

Fake gold coins
Directions:
Before starting, print your Leprechaun Trap

planning worksheet

.

To get some inspiration for how to build a leprechaun trap, listen to this audiobook called

How To Catch A Leprechaun

by Adam Wallace. 

After listening to the book, start to brainstorm ways you would catch a leprechaun using your planning sheet! There are no set materials that you have to use, so be creative, and use what you can from your own house! 

After collecting items from your home, start making and creating your traps!

Share a photo of your trap with

marketing@childrensmanor.com

by Monday, March 15 so we can share your creation before St. Patrick's Day!