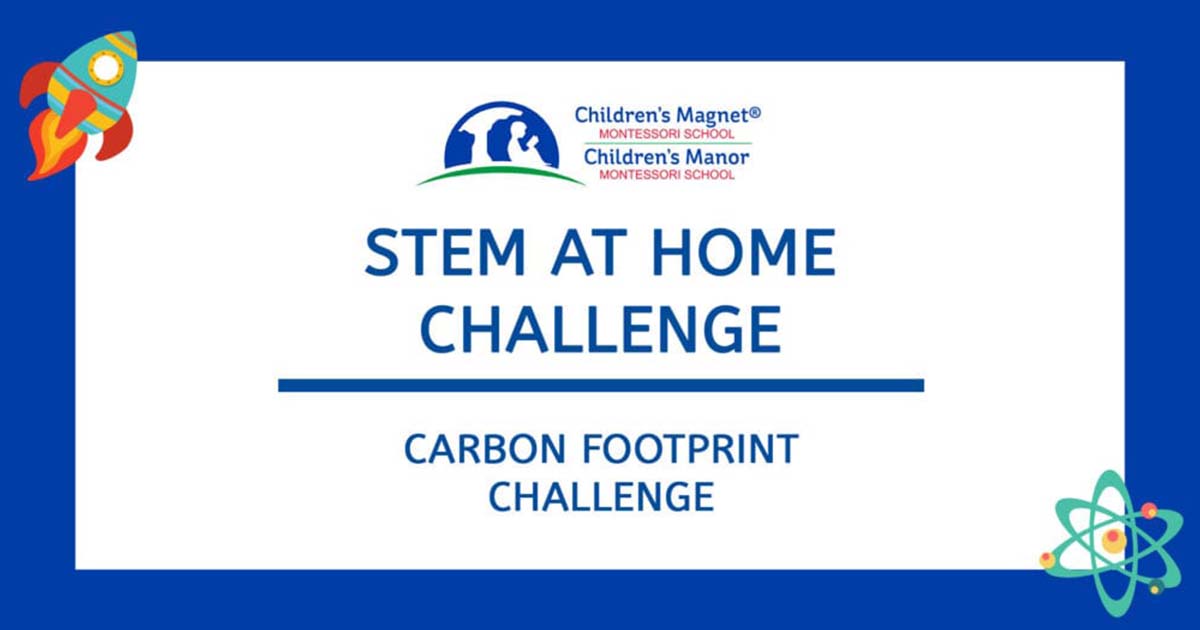 22 Apr

Stem Challenge: Carbon Footprint

Since today is Earth Day, we are going to do a themed STEM activity that will teach you about carbon footprints! The definition of carbon footprint is the amount of carbon dioxide, or greenhouse gases, produced as a result of our daily living. We know this might be hard to understand, so we are going to break it down in this activity!

Visit our blog every Thursday to see our latest STEM challenge and share your creations on social media using #CMMSSTEMChallenge or by emailing marketing@childrensmanor.com. Be sure to submit your photos to us by Monday, April 26, 2021!

Submit your photos by April 26th to be entered into our drawing to win a #CMMSSTEMChallenge Prize Pack! For each STEM Challenge you submit to marketing@childrensmanor.com throughout the month you will receive one entry into our April drawing. If you do all 5 challenges in April, you will receive an extra entry! Please make sure to provide your student's full name and school location affiliation in your email. We will announce the winner on our social media pages on May 4th!
Directions:
Start by printing out the

carbon footprint worksheet

and coloring it if you want to! You can also do this activity on a poster board and trace or paint your own footprint in the middle.

Then start thinking about what contributes to a BIG carbon footprint and write it down in the worksheet. Examples: Driving a car – burning fuel (gasoline), Flying in a plane – burning fuel (jet fuel), Wasting energy in our house by keeping all the lights on all the time – burning fuel (natural gas/coal/nuclear energy), Buying imported food – food that travels great distances – burning fuel (gasoline/jet fuel).

Once you have your list of what leads to a BIG carbon footprint, start to brainstorm ways to make your carbon footprint smaller. Discuss all the alternative and environmentally friendlier choices you and your family can make.

When you have brainstormed a list, use your pencil or markers to write your ideas on page 2 of the worksheet and pick at least one thing on the list to commit to as a family. Let us know what you chose as a family and send us a photo of you and your carbon footprint list!