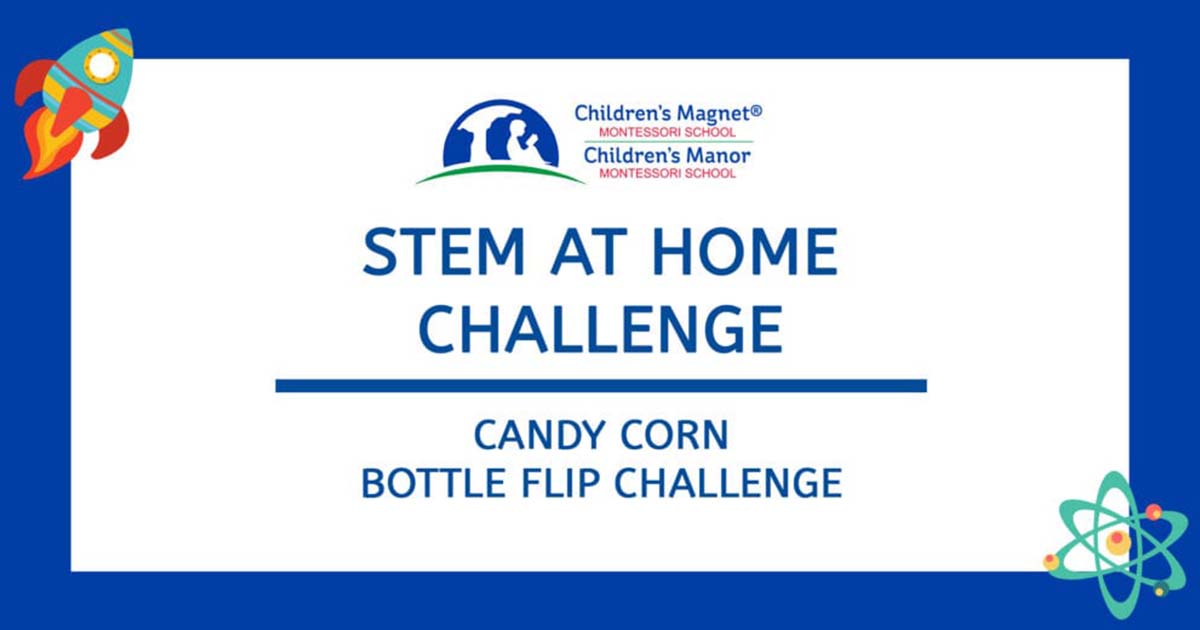 22 Oct

STEM Challenge – Candy Corn Bottle Flip Challenge

We are getting close to Halloween, and that means it's time to do a STEM challenge with some candy! This week we are going to be predicting and investigating with three water bottles filled with candy corn to see which bottle will land vertically or stand upright the most number of times. 

Visit our blog every Thursday to see our latest STEM challenge and share your creations on social media using #CMMSSTEMChallenge or by emailing marketing@childrensmanor.com. Be sure to submit your photos to us by Monday, October 26!
Materials:
Three (3) plastic water bottles with lids

Candy Corn (or any other small candy/items that will fit in the bottle)

Paper

Pencil or Marker
Instructions:
Gather your materials!

Take your three water bottles and fill the first all the way to the top with candy corn, fill the second bottle ½ full with candy corn, and fill the third bottle ⅓ of the way full.

Now it is time to make your hypothesis. Take your pencil and paper and make a prediction (write it out if you are able). You are going to flip each bottle 10 times. Which one do you think is going to stand up vertically the most when flipped?

Testing time – We are going to take each bottle and flip it to see how many times it will stand upright. Test each bottle 10 times, and write down how many times out of 10 that the bottle was able to stand.

Reflect – Was your prediction for which bottle that would stand the most times correct? Why or why not? Do you think the result would be different if you flip the bottles 20 times instead of 10? Try it out!
Let us know your results by sending a photo of you holding your page results with your bottles to marketing@childrensmanor.com by Monday, October 26!