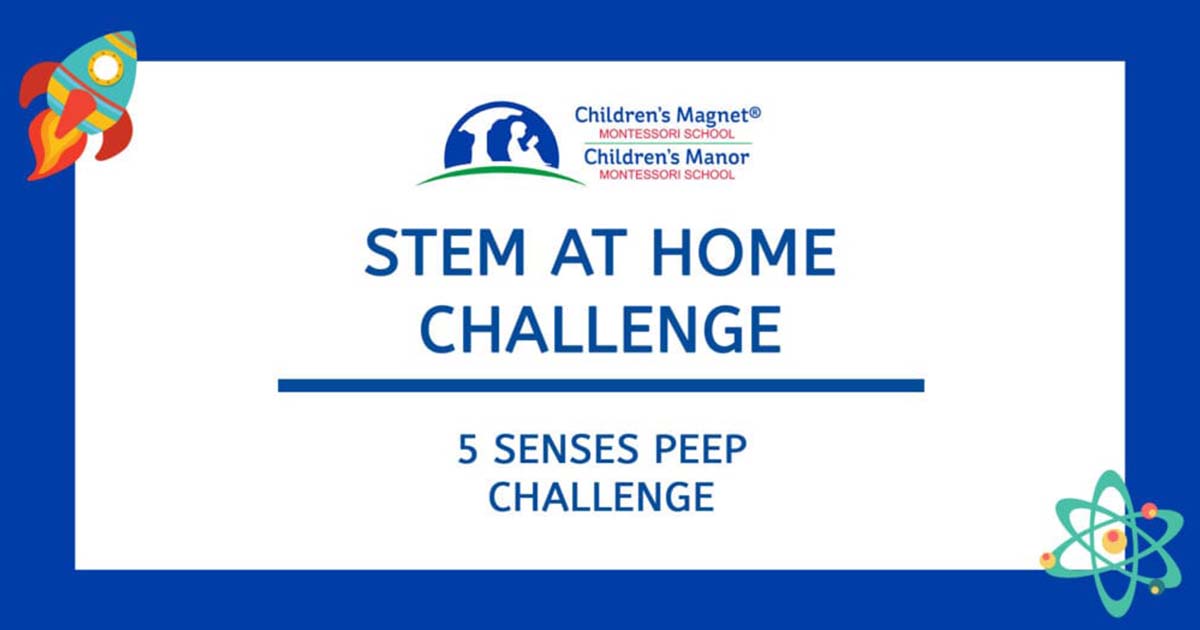 01 Apr

STEM Challenge: 5 Senses Peep Challenge

Since this weekend is Easter, we are going to do an Easter-themed stem challenge! One of the most popular Easter sweets is Peeps so continue reading to try this delicious engaging #CMMSSTEMChallenge that practices using our 5 senses. 

Visit our blog every Thursday to see our latest STEM challenge and share your creations on social media using #CMMSSTEMChallenge or by emailing marketing@childrensmanor.com. Be sure to submit your photos to us by Monday, April 5, 2021!

Submit your photos by April 5th to be entered into our drawing to win a #CMMSSTEMChallenge Prize Pack! For each STEM Challenge you submit to marketing@childrensmanor.com throughout the month you will receive one entry into our April drawing. If you do all 5 challenges in April, you will receive an extra entry! Please make sure to provide your student's full name and school location affiliation in your email. We will announce the winner on our social media pages on May 4th!
Materials:
Peeps – you can use different colored and different shaped peeps if you'd like, but use whatever you have

Pencil or Pen to write notes
Directions:
Print out or recreate the

Peep Recording & Taste Test Sheet

to write down your observations. 

Take a Peep, and start describing the peep's qualities. Use all five of your senses to examine the peep, then write down how you described the peep in the chart. Close your eyes when you use your sense of touch or smell to help you really concentrate.  Y

ou will want to use your sense of taste last or else you won't be able to use the rest of your senses!

After you discuss and write your observations, do a taste test and finish the corresponding worksheet. You can try different colored peeps if you have them to see if there are any differences between them!
We can't wait to see your results! Don't forget to send your photos of your results to marketing@childrensmanor.com by Monday, April 5 to be entered into the drawing!