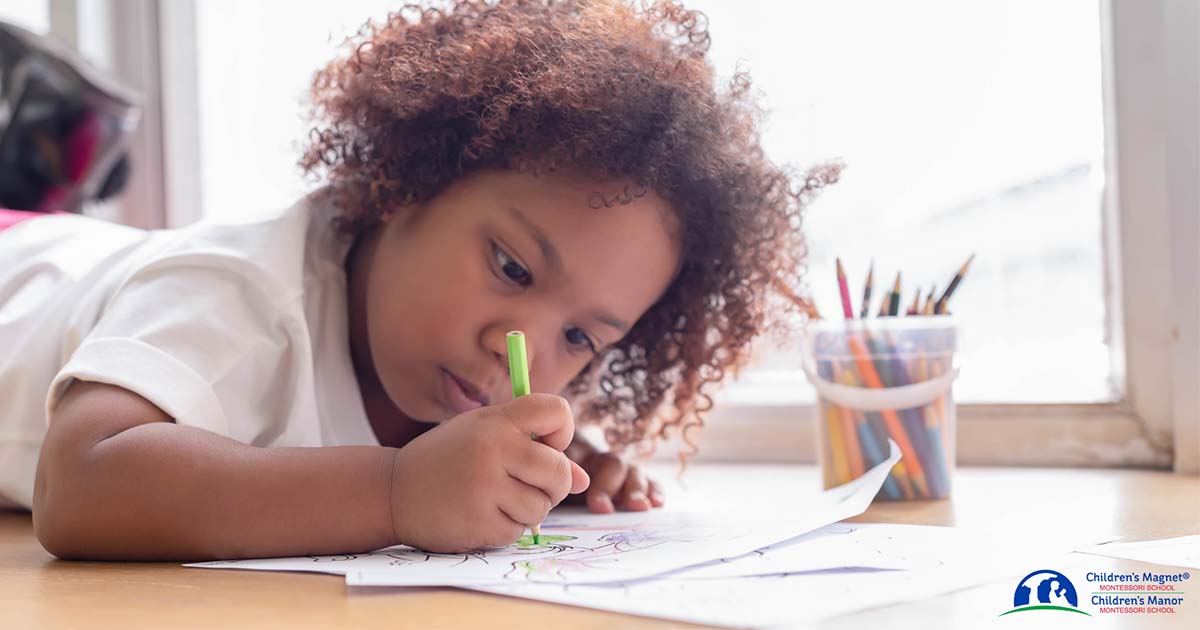 03 May

Mindfulness Matters: Staying Connected During Mental Health Awareness Month

Did you know that as many as 1 in 5 youth may deal with a mental health challenge?1https://www.childrensmentalhealthmatters.org/ While mental health issues in children can be harder to identify than an external bruise or broken bone, they are just as crucial to address!  

May is Mental Health Awareness Month and CMMS has partnered with the Howard County Office of Children and Families to share information and activities about mental health that you and your family can participate in throughout the month. Check out the May Self Care Calendar filled with preschool-friendly daily activities to promote overall health and resiliency in your children.
Emotional Well-Being
The emotional well-being of young children is directly tied to the care and nurture they receive from their caregivers and family. The way they are held, cared for, and even talked to in their early years can profoundly shape their mental health.2 https://developingchild.harvard.edu/science/deep-dives/mental-health/ As we go through this unprecedented COVID-19 pandemic, with routines of young children turned upside down, it is critical for families to engage with their children in thoughtful and sensitive ways.  
It's vital that we support the overall health and wellbeing of our children both physically and emotionally. Checking in regularly with your kids can help demonstrate that it's ok to ask for help when they need it.  
Resources
From reassuring books and videos for younger children to support groups and interactive text sessions for older children, there are a wide variety of electronic and community-based resources and support available for families. Visit www.childrensmentalhealthmatters.org to learn more.
Here are some specific tips from the National Association of School Psychologists for supporting a child's mental health at home:
Create a sense of belonging.

Feeling connected and welcomed is essential to children's positive adjustment, self-identification, and sense of trust in others and themselves. 

Promote resilience.

Adversity is a natural part of life and being resilient is important to overcoming challenges and good mental health. Connectedness, competency, helping others, and successfully facing difficult situations can foster resilience.

Develop competencies

. Children need to know that they can overcome challenges and accomplish goals through their actions. Social competency is also important. Having friends and staying connected to friends and loved ones can enhance mental wellness, even if we have to use more electronic methods these days. 

Teach and reinforce positive behaviors and decision making.

Provide consistent expectations and support. Teaching children social skills, problem-solving, and conflict resolution promotes good mental health. "Catch" them being successful. Positive feedback validates and reinforces behaviors or accomplishments.

Demonstrate helping others

. Children need to know that they can make a difference. Pro-social behaviors build self-esteem, foster connectedness, reinforce personal responsibility, and present opportunities for positive recognition. Helping others and getting involved reinforces being part of the community.

Encourage good physical health

. Good physical health supports good mental health. Healthy eating habits, regular exercise and adequate sleep protect kids against the stress of tough situations. Regular exercise also decreases negative emotions such as anxiety, anger, and depression.
Mindfulness
Mindfulness is an integrative, mind-body based approach that helps people to manage their thoughts and feelings and mental health.3https://www.mentalhealth.org.uk/a-to-z/m/mindfulness Mindfulness can help us reset our thoughts and feelings to focus on what is truly important in our lives, and can help us see more clearly. As parents or caretakers, it is important to practice mindfulness, especially given the endless repetition of chores such as cleaning, feeding and dealing with tantrums, exacerbated due to the COVID-19 pandemic.
Practicing mindfulness can help us to get out of these feelings by giving us the opportunity to stop the mental, emotional, and physical stress we may feel. When we as caretakers take the time to be mindful, we can then suitably support and follow our children.  As Dr. Maria Montessori said, "Follow the child, they will show you what they need to do, what they need to develop in themselves and what area they need to be challenged in. The aim of the children who persevere in their work with an object is certainly not to "learn"; they are drawn to it by the needs of their inner life, which must be recognized and developed by its means."4http://ageofmontessori.org/montessori-mindfulness/
 You can visit ChildrensMentalHealthMatters.org for more information about signs and symptoms of stress, anxiety and other mental health issues to be aware of and where to reach out for additional support.  
We hope that these resources are useful to you and your family, and encourage you to incorporate some of these tips into your day to day routine. It takes a village to care for one another, and we are grateful that CMMS is part of your village community!